Sunethra Muralidhara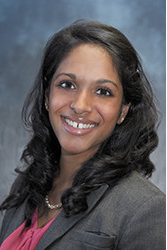 Experienced in both criminal and civil law, Ms. Muralidhara has a strong commitment to fighting injustice throughout the legal system. Primarily representing those accused of crimes in federal court, Ms. Muralidhara's main focus is to protect the constitutional rights of the accused.
Ms. Muralidhara's client-centered approach focuses on a thorough breakdown and analysis of each clients' case with additional investigation to ensure that everyone's rights are protected. Ms. Muralidhara prides herself on her candidness and top-notch negotiation skills to provide the best possible outcome for each of her clients.
She has extensive knowledge in litigating all types of fraud cases, money laundering, theft and embezzlement, drug crimes, gun crimes, sexual abuse, child pornography, assault and battery, robbery, kidnapping, murder, illegal reentry, various conspiracy charges, federal petty and misdemeanor offenses, and supervised release violations. She has also prepared Applications for Clemency (Pardons and Commutations), Motions for Early Termination, Motions for Compassionate Release, and even petitioned the Bureau of Prisons, assisting clients with the administrative process while incarcerated. She has a knack for preparing and presenting substantial client mitigation for sentencing and obtaining just results for her clients.
Ms. Muralidhara serves as a member on the Nevada Board of Continuing Legal Education, an Arbitrator and Mediator for the Nevada State Bar's Fee Dispute Committee, and is the Co-Chair of the New Lawyers Committee for the Clark County Bar Association.
Ms. Muralidhara is a Vegas Inc. Top Criminal Lawyer for 2021. She also served as an Alternate Judge in the Las Vegas Municipal Court from 2019-2021, presiding over misdemeanor criminal offenses. She is a former Assistant Federal Public Defender.
Practice Areas
Criminal Defense—State and Federal
Federal Appeals and Post-Conviction Relief
Applications for Federal Clemency (Pardons and Commutations)
Federal Sentencing
Record Sealing
Bar Admissions
Admitted to the Nevada Bar, 2014
U.S. District Court, District of Nevada, 2014
U.S. Court of Appeals Ninth Circuit, 2017
State Bar of Nevada, Member
Clark County Bar Association, Member
American Inns of Court, Member 2016-Present
Nevada Attorneys for Criminal Justice, Member
Education
Loyola University Chicago School of Law, Chicago, Illinois

J.D. graduated Cum Laude - 2014

University of Michigan, Ann Arbor, Michigan

B.A. with Distinction and Academic Honors - 2011
Professional Associations and Memberships
Vegas Inc's Top Lawyer 2021—Criminal Lawyer
New Lawyer Committee Co-Chair for the Clark County Bar Association 2020-Present
Appointed Arbitrator & Mediator, Nevada State Bar Fee Dispute Panel of Las Vegas, 2015-Present
Nevada Board of Legal Education—Board of Governors Appointee, 2021-Present
Appointed Las Vegas Municipal Court Alternate Judge 2018-2021
Las Vegas Indian Chamber of Commerce Board Member, 2015-2016
Circle of Advocates Mentor—Loyola University Chicago School of Law
Past Employment Positions
Federal Public Defender, Las Vegas, Nevada, 2015-2018
Morris Polich & Purdy, LLP, 2014-2015
Judicial Extern with Federal Magistrate Judge Michael Mason, Northern District of Illinois, 2014
Publications
Taught Continuing Legal Education Seminars:

Johnson v. United States, 135 S. Ct. 2551 (2015) (Federal Public Defender and CJA Attorneys)
How to Conduct a Successful Arbitration and Mediation (State Bar of Nevada Fee Dispute Committee) Oct. 2020

Published author and poet in the book: Letters to the President
American Bar Association Preview: Burrage v. United States, 2013
Loyola University Chicago ChildLaw Ed. Institute Forum 2012
ChildLaw Forum, Checking the Box on Racial Classifications Race Based Admissions Policies in Higher Education